Price

RM1,379.00

Product SKU
507080
Brand
EPOS Gaming
Availability
Description
Highlight
7.1 Sennheiser Binaural Rendering Engine - the ultimate positional gaming audio, developed by Sennheiser for professional gamers
Exceptional immersion - delivering outstanding audio performance in story, music and games
Double USB enumeration for separation of game sound and communication audio
Adjust game and communication audio separately
Change between headset and speaker sound - no unplugging of cables necessary
Aluminum volume wheel and high-quality materials for superior performance
2 years warranty
Genuine products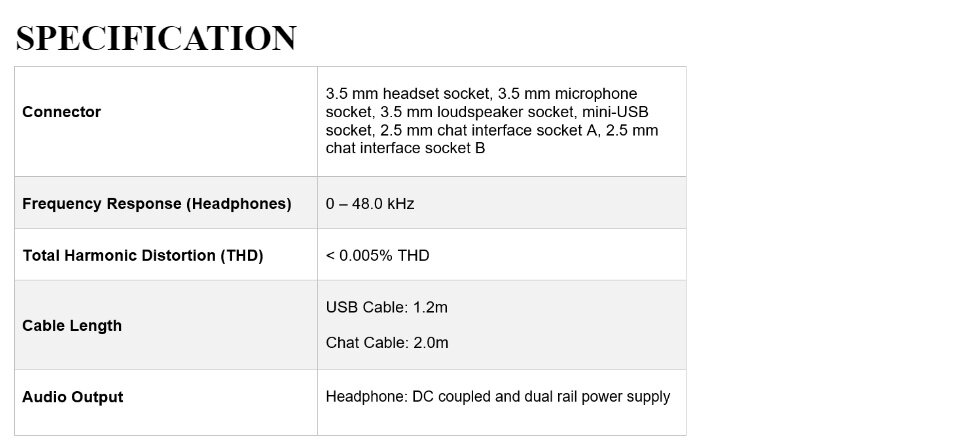 ULTIMATE POSITIONAL GAMING AUDIO
​
Designed for the competitive eSports arena, the GSX 1200 PRO audio amplifier features a groundbreaking 7.1. Virtual Surround Algorithm. Experience Surround Sound on a new level. Precise control of both game and communication sound is allowed by separate adjustment of - and switching between -headphones and speakers without having to unplug the cables. Get ready for the tournament and connect up to 8 GSX 1200 PROs together for hard-wired lag-free communication, and control of inbound and outbound chat. It works with PC and Mac.
CHANGE SOUND SETTINGS ON THE FLY

Featuring the red LED-lit touch panel display surrounded by a durable aluminum volume wheel, the GSX 1200 PRO radiates a sense of potency, purpose and total focus on the gaming experience. The crystal-clear display takes inspiration from the instrumentation on performance cars or fighter planes – giving fast immediate information and allowing players to rapidly adjust sound on the fly.
HEAR EVERYTHING. OWN THE GAME.

The GSX 1200 PRO has been designed to be the heart of your gaming sound, with a dedicated DAC chip that requires no additional drivers. The amplifier give precise control of both game and communication sound, allowing for separate adjustment and USB inputs for each. Besides the range of EQ settings, it is possible to set Reverberation levels to change how the user feels in physical spaces of the game, and even increase the surround speakers for back and front speaker focus.
GAME CHANGING INTUITIVE CONTROL

The red on black display dims down when not in use to cut the distractions, and brightens the instant it senses your hand is near. It allows you to instantly adjust the Sidetone to change how loud your own voice sounds, and to switch between headset and speaker sound without unplugging cables.

Designed for competitive eSports arenas, the GSX 1200 PRO has been created by Sennheiser specifically for professional gamers, adding tournament-ready features such as Chat Link - the ability to connect up to 8 GSX 1200 PROs together for hard-wired lag-free communication.

Lock your preferred sound configurations during the tournament. With a few simple steps organizers can now make sure that all audio features are locked for the players, as well as enabling improved microphone noise cancellation to cancel out noise from even the loudest crowds.

We are shaping today the audio world of tomorrow - that is the ambition that we and our company live by from day to day. This vision statement describes what we are hoping to achieve together. The foundation for this is our history, our culture of innovation and our passion for excellence.
For us, good sound is not enough. We want to achieve the perfect sound. We want to make sound come alive.
Reviews (0)
view all
back
What's in the box
1 x GSX 1200 Pro Audio Amplifier
1 x Chat cable
1 x USB Cable
1 x Quick Guide
1 x Safety Guide