EPOS | Sennheiser GSP 350 Closed-Back Gaming Headset for PC, Mac, PS4 and Xbox One with 7.1 Dolby Surround Sound
Price

RM659.00

RM759.00

Product SKU
507081
Brand
EPOS Gaming
Availability
In Stock
Quantity
Description
Highlight
High-end Dolby 7.1 Surround Sound
Chat with crystal clarity
Professional noise-cancelling microphone
Customizable surround software
Microphone lift-to-mute feature
Intuitive volume control on right ear cup
2 years warranty
Genuine products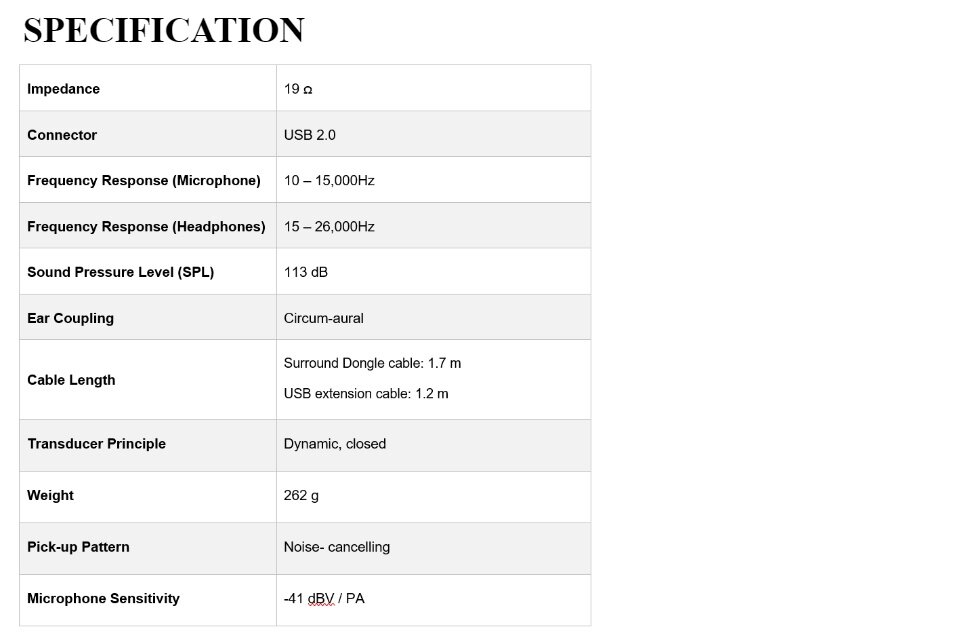 NEXT LEVEL OF GAMING AUDIO

When you're ready to advance to the next level of gaming audio, Sennheiser's GSP 350 brings an incredible level of immersion to PC gaming. The closed-back gaming headset is powered by Sennheiser's high-end acoustic technology, which delivers Dolby 7.1 Surround Sound via a sleek and intuitive new Surround Dongle.
NEW LOOK AND BRILLIANT COMFORT

The GSP 350 features memory foam ear pads offer a best-in-class acoustic seal for excellent passive noise attenuation to allow for total focus on the game without being interrupted by outside sound. The luxurious ear pads have been designed in accordance with Sennheiser's dedicated research into the ergonomics of the human ear for superior comfort – even for longer periods of gameplay.
Inspired by aviation, the cleverly-hinged and adjustable split headband reduces pressure for enhanced comfort, making it effortless to achieve the perfect fit. The superior fit is further assured by a clever ball-joint hinge that makes it easy to perfectly angle the speakers to suit your face shape.

The GSP 350 comes with a sleek and intuitive new Surround Dongle for PC to quickly toggle between stereo and Dolby 7.1 Surround Sound, while Sennheiser's elegant, intuitive software interface tailors the experience to each gamer, their game, or their surroundings: Four equalizer settings providing optimized modes for gaming, an eSports mode, an 'Off' setting that allows for a neutral sound performance, and a music mode for a premium audio experience.
CRYSTAL-CLEAR COMMUNICATION

For the ultimate team performance, the GSP 350 is equipped with a broadcast quality noise-cancelling microphone that minimizes background noise, and a short boom arm that cuts out breathing sound for clearer in-game communication. To mute, simply lift the boom arm and you're off the air!
Durability and reliability are secured by the use of high-quality materials and extensive product testing. To keep your mind at ease, all of our gaming headsets come with a two-year international warranty.
MULTI-PLATFORM COMPATIBLE
The GSP 350 comes with the possibility of exchanging the cables. With one of the accessory cables available online you will be able to enjoy gaming also on other platforms in analogue mode such as Mac, consoles, mobiles and tablets. Please be aware that the Dolby 7.1 Surround Sound software only works with PC.

We are shaping today the audio world of tomorrow - that is the ambition that we and our company live by from day to day. This vision statement describes what we are hoping to achieve together. The foundation for this is our history, our culture of innovation and our passion for excellence.
For us, good sound is not enough. We want to achieve the perfect sound. We want to make sound come alive.
Reviews (0)
view all
back
What's in the box
1 x GSP 350 Headset
1 x USB Surround Sound Dongle
1 x USB Cable
1 x Quick Guide
1 x Safety Guide